Kiedy jakiś czas temu wrzuciłem na fb zdjęcie pieczonego łososia, ktoś powiedział, że powinienem założyć bloga. Kilka dni później podczas wspólnego biegania kolejna osoba powiedziała, żeby to zrobić. Dlatego też pierwszym daniem, jakie chciałem Wam zaproponować jest pieczony łosoś z pesto szpinakowo pistacjowym zawinięty w szynce parmeńskiej. Danie jest pyszne, i bardzo szybkie w przygotowaniu z rozgrzaniem piekarnika zajmuje to max 30 min.
Łosoś – jest bogatym źródłem niezbędnych nienasyconych kwasów tłuszczowych omega-3. Jedna porcja tej ryby pokrywa dzienne zapotrzebowanie na te kwasy. Tłuszcze te hamują apetyt, wspomagając odchudzanie. Obniżają one ciśnienie krwi, poziom cholesterolu, rozszerzają też naczynia krwionośne, zmniejszając ryzyko chorób serca i układu krążenia. Działają też przeciwzapalnie, łagodząc objawy reumatoidalnego zapalenia stawów. Idealny dla biegaczy bo wzmacnia nasze serce.
Szpinak –  W dzieciństwie nie lubiany przez większość z nas. Podawany w szkolnych stołówkach w postaci papki szpinak ma duże ilości łatwo przyswajalnego żelaza. Poza tym zawiera dużo witamin i składników mineralnych a zwłaszcza chlorofilu i przeciwutleniaczy. Jedząc szpinak dostarczamy błonnik, wapń, potas, sód, fosfor, magnezem żelazo i witaminy A, B1, B2, B3, B6, C, E – samo zdrowie.
Pistacje –  charakteryzują się bardzo podobnymi właściwościami jak wspomniany szpinak, świetne źródło składników mineralnych, zawierają witaminę B6 i inne z grupy B, posiadają właściwości utleniające. Zawierają najwięcej błonnika wśród orzechów. Jedna porcja pistacji to prawie tyle samo co porcja płatków owsianych.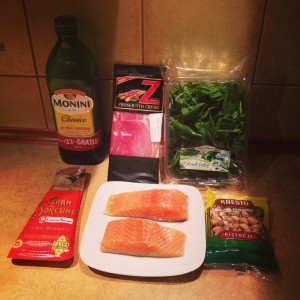 Składniki
Dwa 100-125 gramowe filety łososia
50 gram świeżego szpinaku
4 plastry szynki parmeńskiej
50 gram pistacji
2-3 łyżki parmezanu
3 łyzki oliwy
Włączamy piekarnik i nagrzewamy do 180 st z termoobiegiem. Do blendera wrzucamy liście szpinaku, obrane pistacje, parmezan oraz oliwę. Miksujemy. Powstałe pesto nakładamy na łososia i zawijamy w szynkę parmeńską. Wkładamy do piekarnika na 20 min. Gotowe ! Smacznego !